Martin Luther King Jr. Day 2018
So Neera Tanden did a MLK tweet this morning. Rob's response was quite typical.
He'd probably criticize Democrats for waging endless war on poor people abroad while spying on American citizens at home, then you'd denounce him as a Kremlin agent

— Rob (@robrousseau) January 15, 2018
MLK's opinions about capitalism seem to be more and more known:
"Capitalism has outlived its usefulness. It has brought about a system that takes necessities from the masses to give luxuries to the classes." ~Martin Luther King Jr.

— Occupy the democrats (@OccupyTheDems) January 15, 2018
Benjamin Dixon did a fantastic thread of MLK quotes and began it with this – words that certainly still ring true today:
King speaking out against Vietnam and the loss of access to political power whenever you challenge political power. pic.twitter.com/hEEMPQYwmO

— Benjamin Dixon (@BenjaminPDixon) January 7, 2017
I would say that a lot of people may think they more about MLK than they do:
Did you know that Martin Luther King Jr. was a Socialist? pic.twitter.com/EA8vuUZTCf

— Black Socialists in America (@BlackSocialists) December 30, 2017
The Revolutionary Socialism Of Martin Luther King Jr.
On Martin Luther King Jr. Day, the establishment (and their media) like to celebrate MLK's love of imperial America and centrist economic doctrine. The symbol celebrated bares little resemblance to the actual man and his ideas.

There is a reason the FBI orchestrated a well-resourced campaign to destroy King that ultimately culminated in J. Edgar Hoover having a letter sent to King to push King to commit suicide.

The reason is Reverend Martin Luther King, Jr. opposed capitalism and the American empire.

In the last campaign before his assassination, King campaigned for a democratic socialist agenda. Called the Poor People's Campaign, demands included a guaranteed job, retribution of land and capital, and more inclusion of the poor in state decision-making.
Was MLK one of the first proponents of Universal Basic Income?
https://www.youtube.com/watch?v=BY1OKSObkH0
And what do you suppose MLK had in common with Einstein (other than both being highly intelligent)?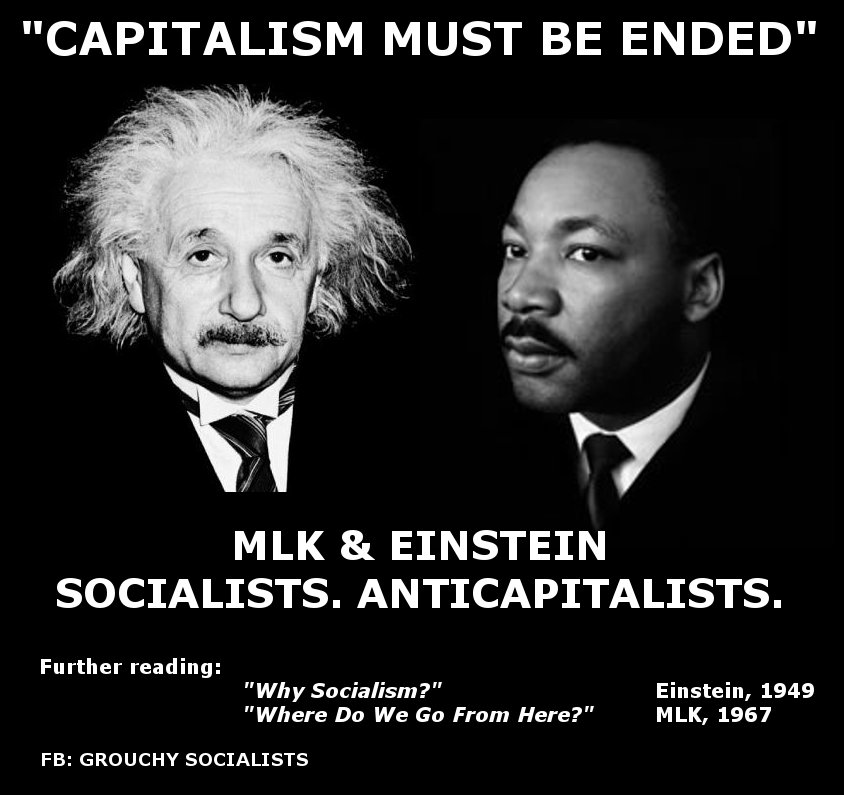 A tidbit from Albert Einstein while we're here – I'd bet that MLK would concur:
Private capital tends to become concentrated in few hands… The result of these developments is an oligarchy of private capital the enormous power of which cannot be effectively checked even by a democratically organized political society. This is true since the members of legislative bodies are selected by political parties, largely financed or otherwise influenced by private capitalists who, for all practical purposes, separate the electorate from the legislature. The consequence is that the representatives of the people do not in fact sufficiently protect the interests of the underprivileged sections of the population. Moreover, under existing conditions, private capitalists inevitably control, directly or indirectly, the main sources of information (press, radio, education). It is thus extremely difficult, and indeed in most cases quite impossible, for the individual citizen to come to objective conclusions and to make intelligent use of his political rights.
Did you know that the stock market is closed today? Ironic.
Martin Luther King Day Is Now More Popular Than Presidents Day
Americans are more likely to get a day off to honor the legacy of Reverend Martin Luther King, Jr., than they are for holidays remembering Christopher Columbus or George Washington.
And what does the mega-capitalist, sometimes-resident of the White House, President think about MLK Day?
"I encourage all Americans to observe this day with appropriate civic, community, and service activities in honor of Dr. King's life and legacy," Trump said in a tweet Friday after a ceremony at the White House.
Does spreading the truth about Martin Luther King Jr. count?
😉
"It is still treated as a second-tier holiday," said Harley Shaiken, a labor historian at the University of California at Berkeley. "In light of what Trump said [Thursday], we really should elevate it in a way that it really becomes central. This is a key time in history to be celebrating his values."
Yes! I agree.
Please feel free to add other tidbits about Martin Luther King Jr. below.
Peace!