Trump's 'Election Integrity' commission requests states to provide full voter roll data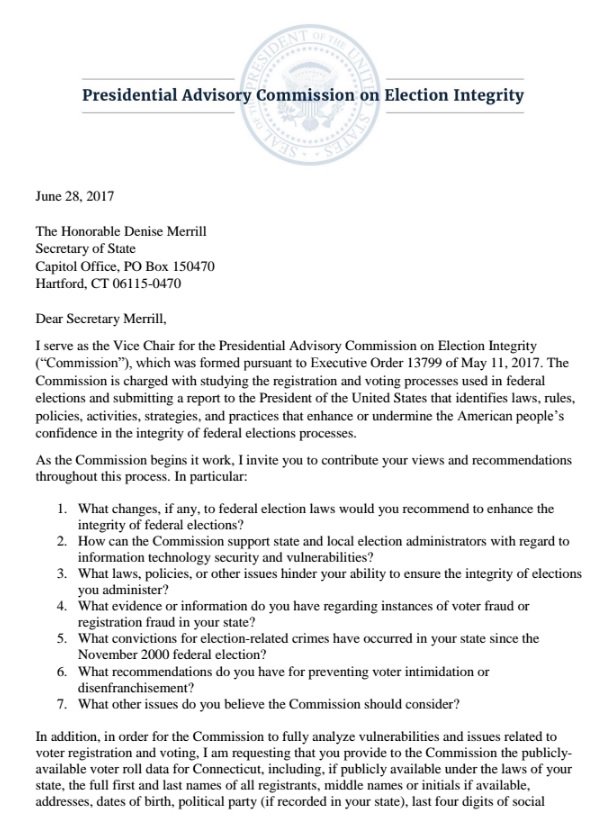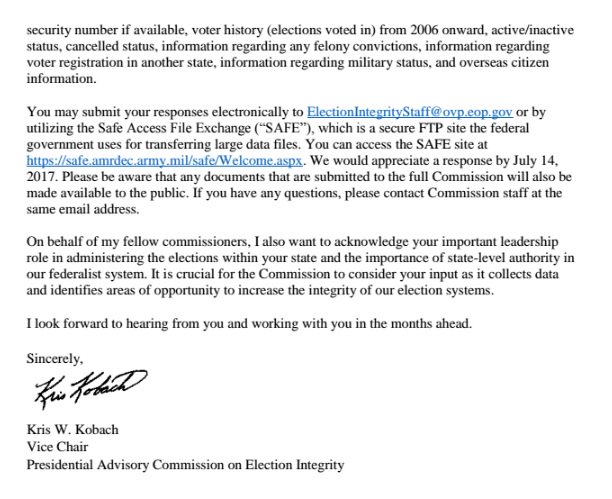 Whoa.
The request seems very intrusive – is it legal?
"last four digits of social security number if available"
and
"Please be aware that any documents that are submitted to the full Commission will also be made available to the public."
Some are already worrying that they are preparing for voter suppression. I don't know about that, but it's not as though Kris Kobach has a good record in that regard!
May 12, 2017:
Kris Kobach, the 'King of Voter Suppression,' Will Lead Trump's Sham Voter Fraud Commission. Be Afraid, Very Afraid.
I sat down with Dale Ho, director of the ACLU Voting Rights Project, to discuss the potential impact of the commission and what Americans can do to protect one of the most fundamental rights in our democracy. Below is a slightly edited version of our conversation.

What was your first thought when the news broke today about President Trump's executive order on election integrity?

Dale Ho: That this was the first step in a plan to suppress voting in this country. There is no evidence that we have a problem with election integrity. You can tell that this is a sham commission just by the appointment of Kris Kobach, someone who has devoted much of his professional life to suppressing the vote, to vice-chair. It's a circus show, designed to undermine confidence in our system and to reach a pre-determined result and to justify laws that make it harder for people to register and vote as a result.
Am I overreacting?